Support Little Acorn Sanctuary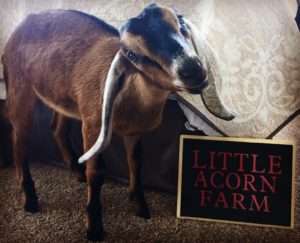 Without donations from passionate people who believe animals deserve love, safety and a voice, we would not exist!
Little Acorn Sanctuary is women founded 501(c)(3) non-profit in Northfield, Minnesota.  Our mission is to provide care and safe haven to farm animals who have been abused, abandoned and neglected.  Many of our animals have special needs due to their lack of care on animal farms. We believe every being deserves a chance at a cruelty-free and happy life, and we strive provide a voice for the voiceless.  We are a small sanctuary that hopes to continue to grow, as there are so many animals in need of care and a place of refuge.  Our sanctuary was founded in June 2018 and with the help of many passionate animal lovers, we are still growing.  Our dream is to continue to expand, to open our doors to new residents and to spread awareness about animal treatment and the cruel effects of factory farming.
There are two ways you can help make sure our animals get the support they need:
Make a one-time donation to Little Acorn Sanctuary.
Become a Patron by sponsoring our animals through monthly donations! Monthly donations ensures we can continue to support our animals by providing funds for food, bedding and medical care. Sign up to become a patron by signing up below!
$1 feeds a hen for a month, $5 buys a bag of bedding or a bale of hay, $10 pays for a bag of goat food, $50 provides enough bedding for all our goats for a month! We appreciate each and every dollar donated.  We couldn't do it without you!
* Little Acorn Sanctuary is a 501(c)(3) organization and all donations are tax deductible.